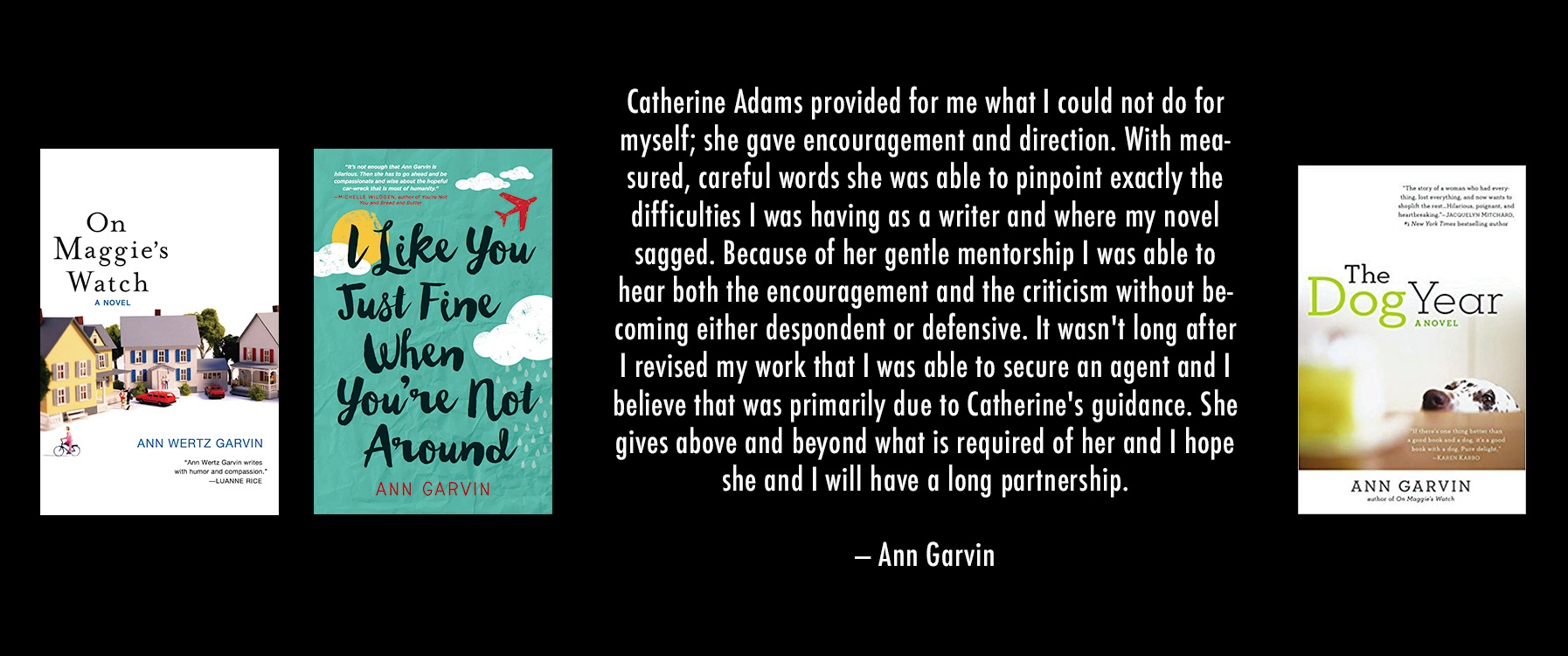 A developmental editor does exactly what her title says—she helps you develop a written project so to reveal its greatest potential. 
Every manuscript has unique strengths and unique problems. A developmental editor identifies these and helps the writer establish a revision plan that enhances the strengths and solves the problems in the individual manuscripts. To learn in more depth about the role of a developmental editor in traditional and indie publishing, read on.
While many readily available books offer excellent general advice on the art of writing and the business of publishing, the eccentricities of every manuscript demand a more tailored approach. When agents regularly received 250–500 queries every day or week, a fiction or nonfiction manuscript needs to be better than very well written, and it needs to present a fresh take on an exciting subject. Manuscripts—and their pitches—must be exceptional. It is more than worth your time and resources to get the opinion of a devoted developmental editor before pitching your project to agents and editors. At the very least, it will give you ease of mind that your manuscript is ready to face the steely gaze of publishing. At the very most, the experience will generate new ideas to take your narrative, argument, and prose to another level.
I tailor my advice to resolve issues specific to the manuscript before me. I treat every project as a fresh challenge while also bringing two decades of experience to the work. I see my job as presenting options. This includes advice on:
Making sure the pitch and the manuscript work as a team.
Perfecting narrative point of view so the story feels unified from beginning to end.
Reinforcing the delivery of nonfiction arguments.
Hitting that perfect opening to set the stage for exciting live-or-die stakes.

Transforming prose to reveal your distinctive voice.
Revealing character motivation and stakes through word and deed.
Nailing that ending.  Readers will rave 
about your story everywhere on social media.
​​​​​​​​​​​​​​
How to get the most out of the writer-editor relationship?
As we begin, I encourage sharing your current project and your goals as a writer. This can happen over the phone or over email. This conversation can be as free-form or as polished as you wish.  Once I have the answers to the following questions, we can begin together to work on your manuscript.
What is your story or argument?
What is most at stake for you? For your protagonist? What are your characters—or you—willing to go to the mat for? To fight for? To die for? To love and campaign for?
Where will your book be located in a bookstore? What's its genre or category?
Does your project break all the rules and genre-bend?

What expertise on the subject matter do you bring to the project? Is this as a voracious reader of fantasy or mainstream women's fiction? As a restorer of antique furniture? As a collector of indigenous textiles? As a blogger with a devoted following? Expertise can mean so many things.

​​​​​​​
Want to learn more? Terrific! Read on!
A Personal Passion for Developmental Editing
An Interview with Catherine Adams by Kimberly Shursen
I met Kimberly Shursen in 2012 when she was working on her first novel.  A blogger about the writing life, she requested that we sit down for a chat and share with more people the role of a developmental editor in the creative life of a new and emerging author.  Here is the link to the published post.  Go and check out Kimberly and her work!
A couple of weeks ago, I sent my baby to the doctor.  Okay, not a human baby . . .  but still an embryo that grew inside my imagination and came out a novel.  I knew it was time to let go, to see what I needed to give my 'baby' wings.  Where do you go for a professional diagnosis of your novel or short story?  Ann Garvin, author of ON MAGGIE'S WATCH, had the answer and recommended Catherine Adams, a well-known and successful developmental editor.  After researching Ms. Adam's background, I gathered my courage, drew in a deep breath and pushed the 'send' button, letting my 'baby' travel into the professional hands of Ms. Catherine Adams.  It was a very wise decision.  Today, I have the privilege of introducing Ms. Adams to the Underground.

Kimberly:
   Catherine, you are a developmental editor and book mentor.  What does that mean?


Ms. Adams:
 "Developmental editor" isn't used much in writers' lingo anymore.  The term is a carry-over from the old days of publishing when an editor could see a writer's potential and devote time and resources to develop that writer's work and style, whether it took hours or weeks or years.   We've all heard those stories—they have a mythic quality anymore—and all writers understandably hope a publishing house editor will discover them in the mountains of submissions and nurture their work until success hits.  Unfortunately, that doesn't happen now.  In publishing houses, the "developmental editor" has morphed largely into the "acquisition editor" because that's the focus anymore—acquisitions.  And when acquisition editors are expected to shepherd the equivalent of 50+ book-length projects through each year, from acquisition to production, it's little wonder they don't have time to develop work sent their way.  It's either ready or it's not.  Agents face the same dilemma.  There's just too much to do to nurture a writer whose work isn't yet ready to submit.  On occasion, an agent will spend precious time to give suggestions to work they find promising—but that is by no means the rule.  That's the very rare exception, and it should be taken as a test of a writer's ability to buckle down and rewrite, even if rewriting means gutting.  In the main, however, writers get no feedback, just polite (or not so polite) rejections.

Into this vacuum, I step in.  Independent developmental editors are well known in the industry—everyone from individual writers to agencies to publishers use their services.  We're one of the many sets of people operating behind the scenes.  I am the person who reads the manuscript—plus agent or publisher comments, if available—and works with the writer to devise a revision strategy.  First comes the identification of problematic areas—whether in specific sections or in how craft/argument techniques are used—and then suggestions for how to address these concerns—and there are always several options to consider.  Each project is different, which keeps the work exciting and fresh.  One project might need threads condensed or the structure reworked for balance and unity; another project might need its prose examined for weaker spots, while still another needs to reconsider how place or context is used in the story or argument.  Presenting these problems and their possible solutions in a clear, professional, and supportive way is the most important aspect of my job.   And with this support, writers wind up with a manuscript ready to submit or resubmit to agents or publishers.



Kimberly:
  How did you happen to get into this business? Does it take talent or intuition to become a successful developmental editor?

Ms. Adams:
 As is so often the case with publishing professionals, life took me here.  I have an insatiable curiosity about ideas, about cultures, about life choices, about people—just like most writers and artists.  I found a home in this community, which opened up opportunities due to conversations and experiences I was simply having and enjoying.  My passion for teaching writing in university courses also factored in, as did my long-standing obsession with language.  Before I was even in my teens I had a volume of the Roget's International Thesaurus (the big one, with an index) that I'd hunch over, absorbing the nuances of how to express a thought or feeling—and as soon as my parents allowed me to use public transportation alone, weekends found me poring over random grammar books at the university library downtown.  I was such a language geek.  This passion early on developed an appreciation for nuance in the written word, as well as an ear for rhythm, cadence, and individual prose styles.  These talents are used now to help writers edit their prose without affecting their style.  I am a chameleon in that regard.

But to become a successful developmental editor—that takes a lot of different skills, including business and communication skills.  I imagine every editor taps into their special combination, but for me, a key ingredient is the ability to invest fully in a project, emotionally, intellectually, so to develop solutions—but then step back at the end and listen to the author.  I do a balancing act between taking on a project as if it's my own and always understanding that it's the author doing the hard work and making the important decisions.  I am both tough critic and supportive listener—because it's in that combination that the best ideas and work come out.  I want to be the one a writer eagerly calls to springboard ideas off of or to share the latest revision or project, and I want to be the one who responds with honest feedback, including feedback I know is difficult for an author to hear.  



Kimberly:
  Can you tell us a bit about your background?


Ms. Adams:
 I grew up in a suburb of Louisville, Kentucky, and while my working-class parents found it odd that I loved libraries and museums and Italian opera, they did their best to get me to the arts center and to exhibitions.  The city, too, actively encouraged youth involvement, so I worked on plays with the director of Shakespeare in the Park and volunteered at the Actors Theater of Louisville, one of the best theaters in the country at that time.  It wasn't a surprise to anyone when I studied art and art history in college given my special love for painting and the Italian Renaissance.  Then I went on to do graduate work in art history.  I believed—and still do—that art history is a field in which everything can matter.  Math, physics, cultural crises, language, pop culture, genre—everything.  Artists use everything in their work, so art historians should too.  To that end, I let my curiosity guide me, which led not only to a lot of irregular coursework but also to long periods of travel to countries like India, Nepal, France, Germany, and the former Soviet Bloc.  I was fortunate that my institution and the federal government supported these choices for a long time through fellowships and grants.  All of this now provides the background for my editing work, which often involves research and draws on a range of experiences.



Kimberly:
  Although I know you have a passion and receive a great deal of satisfaction from helping others become a successful author, do you personally have another passion


Ms. Adams:
  I still have a passion for art history, and another for international travel.  My central passions, however, are photography and the hand-produced printing processes of the nineteenth century.  These are my art forms.  I work with black-and-white negative film, and my photographic printing is done completely by hand myself—from coating the papers with sensitizers to toning and matting prints.   Since I took up this passion later in life, I had to teach myself what I needed or wanted to know—and this journey took years.  The 10-year anniversary of making this life decision is coming up in late February, and I'll be celebrating with a solo exhibition at a college that's already purchased the entire show for their collection.  

You can find more about my art and background at my photography website. 



Kimberly:
 When I was given your name to help develop my novel, I thought why do I need a ghost writer?  I can either write or I can't.  Can you tell us the difference between a ghost writer and what it is you do?


Ms. Adams:
 Great question.  The answer is simple: I do not rewrite or write manuscripts for people.   Of course I edit and adjust prose, as well as write short transitions or elaborate an argument when warranted—nearly everyone in the industry does, from journal editors to agents and acquisition editors—but I am not the writer.  I encourage writing.  In the margins of manuscripts, I offer comments: Can this be fleshed out more?  This image is a bit unclear—can you give me more?  This passage needs more character reflection/action to show motivation.  That kind of thing—although on a larger scale and with far more specificity than most writers have experienced before.  I can advise how to shorten an article by half or how to trim 5/10/15,000 words from a manuscript—or even how to rewrite the opening 30/50 pages, scene by scene, so all the threads and characters are adequately set up.  The writing of all this, however, is the responsibility of the author.  



Kimberly:
 On the Inkslinger website, there are separate overviews of how you develop non-fiction, fiction and copyediting and e-publishing.  What is the difference in how you approach each?


Ms. Adams:
 Each approach is different because not all aspects of publishing are the same.  The selling of nonfiction, for instance, is completely different from the selling of fiction.  In general, you sell a nonfiction idea or proposal—then you write it, ostensibly funded by the advance.  Nonfiction also typically involves a lot more hands in the mix.  Those are the projects where agent and/or publisher concerns come into play, so the work is more collaborative.  Even more than my website suggests, each nonfiction project must be approached on its own terms, so I start by looking at the documents and send back my ideas for how to proceed.  I tend to work with mid-list or established nonfiction writers, so everyone has been comfortable with this diving-in approach.

For fiction writers, the central question is pretty standard: Does the finished manuscript work?  That can mean a lot of things: Do the narrative threads hang together?  Does the story fit and/or challenge the expectations of the genre?  Are the characters likeable (a chief concern in many genres)?  Are the characters deep enough?  Is the description vivid?  How does voice draw me in (or not)?  Does the story start in the right place?  Does the manuscript even know clearly what the story is?  Do I as a reader want to set it aside and google stuff on the Internet?  And so on.  Since I'm looking at the finished manuscript (most of the time—more on that in a moment), putting together suggestions for developing and polishing the story can be done in a concise period of time.  For new fiction clients, I break up this process into two parts (evaluation, then in-depth editing) to make sure they are comfortable with how I understand their work.  With returning clients, the process is more flexible.  Usually I say, Shall I jump right in and do what I think is best?  Always they say, Yes.  We work out a time/billing limit (as important for my schedule as for their wallets), and away we go.

Copyediting is a fully different way of editing a manuscript, and I do it only for writers with whom I already work.  Copyediting is intensively rigorous; it's about rules (rules, rules, and more rules), knowing when to break rules (especially for style), establishing consistency (a bigger issue than often imagined), and making sure things read clearly above all else.  I used to believe copyediting was critical only in situations of e-publishing or when a copyeditor wasn't in the publishing house budget.  After seeing clients acquire agents immediately after a solid copyedit—when no amount of querying worked before—I now believe in the power of an aesthetically sharp document these days.  It sets you apart.  Still, for the most part, any copyediting I do is connected to e-publishing, which ties those things together within my business.  



Kimberly:
 What do you find to be the most common mistakes a writer makes?


Ms. Adams:
 For fiction, opening the story in the wrong place tops the list—along with the attendant issue of establishing all the narrative threads effectively in the opening chapters.  This is why I read and evaluate the entire manuscript before beginning in-depth developmental work or prose editing.  I know from experience that knowing the entire storyline generates the most comprehensive, efficient, and innovative ideas and suggestions.  

The second most common issue in fiction is telling prose.  Learning how to identify this flatter way of presenting information, thoughts, and events is one of the hardest lessons to absorb as a writer—especially as telling prose is a shifty trickster.  Almost no writer's telling prose is going to be the same as another's.  For that reason, I pay particular attention to explaining how an individual writer's bad habits tend to manifest, thereby giving her or him a leg up when self-editing future work.

For nonfiction, the most common issue is expecting the reader to hold too many ideas or pieces of information in their head before coming to an answer or statement of importance.  Second, sentences that are too long.  Break them up!



Kimberly:
 There have been times in my career when I had to tell someone they just weren't going to cut it as a sales or marketing person.  Have there been instances that someone sent you a manuscript and no matter how you tried to fix it, it was just not salvageable?  As new writers, we are told to 'forge on, don't give up, don't let the agents who pass your novel over or the criticism of your novel get in the way.'  In your opinion, is there a time when you should put the dream of writing the all-American novel to rest?


Ms. Adams:
 I don't see it as my job to tell an author their work is not "salvageable."  I try to give books their best shot, and anyone who tells you they can do more than that is probably trying to scam you.  What I do is offer tailored development strategies, and it is stunning how information like this can transform a person's writing.  Stunning.  This is something books on craft cannot do—because the advice isn't molded to an individual writer's tendencies or project or way of thinking.  The power of this kind of mentoring and information cannot be underestimated.

But not all writers succeed, this is true—not even all good writers.  How might a writer be getting in his or her own way?  That might be another way of thinking about the issue of a writer hitting against impasse after impasse after impasse.   If a writer responds to my suggestions by dropping the project because s/he's wants/needs a fast sell (this actually happened once), I remove myself from the situation.  That kind of writer needs luck much more than an editor.  Also, if a writer responds to the struggle of revision by claiming s/he'll just hire me to put it in publishable prose (another true story), I remove myself from the situation.  That kind of writer needs a ghostwriter, not me.  

The really common self-defeating tendency is sticking one's head in the sand and thinking writing and publishing just happens.  It takes an immense amount of work at every point.  Writing is a business that you do in collaboration with other people (agents, publishers, marketing teams, readers, reviewers) as much as an individual creative act.  If a writer does not take up this business of writing with sincere devotion, then the dream of publishing the great novel isn't going to happen.  And nothing is going to happen if a writer isn't willing to revise or work methodically—even to the point of gutting the project (fiction or nonfiction) if necessary.  



Kimberly:
 When is the best time to lean upon a developmental editor? Before a query or proposal is sent to an agent?  In the developmental stages of a work or when it is finished?


Ms.  Adams:
 I work with writers at every stage of the writing process—including writers with agents and publishing contracts who for whatever reason want an outside perspective.  To ask for this help is not unprofessional—this is part of publishing, pure and simple.  I think it's just uncommon for many writers outside the network of conferences, MFA programs, and agencies to even hear about developmental editors.

In general for fiction, however, I think it's best to contact a developmental editor after finishing the definitive draft, but before querying agents.  Know if the manuscript is ready—because you only get this one chance per manuscript.  Also, a developmental editor can offer key advice on query letters and other submission materials.  I often write or review these materials for writers—and even enjoy crafting them.

In general, I work with writers on unfinished fiction projects only after we know each other's work and methods via other projects.  It can be dangerous to offer advice on a story in its early stages—there is still something essential and mysterious going on in the creative process—so it's prudent to be diligent in evaluating how that relationship is working out.



Kimberly:
  Taking just the novels you have helped develop over the past 8 years, what is an estimated percentage that has been published or will be published in the near future? 


Ms. Adams:
  A number of my published clients have written testimonials detailing their experience working with me, as well as writing about me in their books' acknowledgement section. But I'd be wary of any attempt to boil the process down to a numbers game.  Any statistic measuring the total number of fiction manuscripts written against the number of manuscripts published would be brutal and shocking.  Shocking.  Even the number of represented fiction manuscripts that face publisher rejection would be daunting.  But no statistic can reflect the dozens of decisions and chance happenings that attend the publishing process.  For that reason, writers need to focus on how they can improve their opportunities day by day, project by project.  In other words, when you're climbing a very, very steep mountain, don't ever—ever!—look down.